IWF Centre Facility Rental - NYC Area
The multipurpose IWF Centre Facility in Nutley, NJ, is available for private use as Television and Movie Production Location, Film and Photography Shoots, Music Videos, Wrestling / Boxing / MMA, Fitness Classes, Business Meetings, Corporate Seminars, and General Site Rental Use.
We hosted hundreds of projects ranging from Live TV News Broadcasts, Filming of TV Episodes and Reality Shows, Movie Scene Filming, Print and Magazine Photography Shoots, Special Fitness and Exercise Classes, Community and Civic Organization Meetings and Functions, as well as Private Wrestling Ring / Boxing / MMA Use, and General Purpose Use.
A location scout's dream, located minutes outside New York City just past the Meadowlands Sports Complex, with easy ground-level access, parking lot, professional lighting / sound / PA, Wrestling/Boxing/MMA Ring, MMA mats, mirrored fitness room for zumba or group exercise classes, yoga studio, various multipurpose rooms, offices, dressing rooms, bathrooms, showers, lobby, reception area, tables, chairs, and more.
Below are Facility Photos & Videos, followed by an Information Request Form that you can submit to inquire about a rental, as well as easy Booking & Payment Fee details.
Book Your Facility Rental Now:
$150.00 Per Hour (Non-refundable. Choose Date & Time on billing page. To add multiple hours, adjust "quantity" on billing page)
* Your set-up and break-down time must be included within your hourly rental time.
* All Participants, Staff and Crew must be at least 18 years of age, no exceptions.
* A security deposit may be required for use involving IWF special equipment, etc.
* Hourly fee is for basic use rentals, and small media productions (no more than 10 total of your staff, crew, assistants, actors, etc).
* Use requiring special set-up or clean-up, big media productions, additional IWF staff & crew, and use of IWF special equipment & supplies is extra.
---
IWF on YES Network & ESPN Radio
Posted: November 30, 2015
IWF Wrestling "Busted Open Wedding" discussed on The Michael Kay Show with Michael Kay & Don LaGreca on YES Network & ESPN Radio 98.7 FM on November 30, 2015. The wedding ceremony and reception, as well as the match between Master of Chaos Kevin Knight and Fifth Element Roman Zachary in Nutley, NJ, are debated.
---
A Day in the Life of WWE Superstar Darren Young,
---
Posted: February 18, 2015
---
Posted: May 28, 2014
---
IWF Wrestling School on WPIX 11 TV Morning News:
Reports Air with Kevin Knight & Young Stallion Jim Powers
---
'Jersey Shore' Star Angelina begins Training at IWF Wrestling School:
TMZ on hand as MTV Reality Show Star Hits the Mat with Kevin Knight

3/7/2011 12:45 AM by TMZ Staff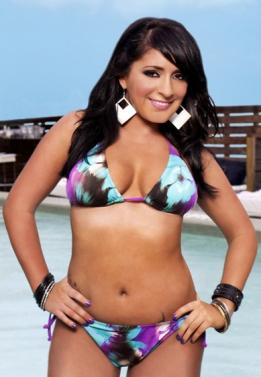 Forget reality television -- former "Jersey Shore" star Angelina has found her calling ... and we're told, it involves fighting gorgeous women in a wrestling ring while thousands of people watch.
Sources close to Angelina tell TMZ, it all started after her appearance on TNA last week -- Angie had the most incredible time getting choked out by a smoking hot blonde chick ... and now she's hooked on suplexes and sleeper holds.
According to sources, she's already taking her new career ambitions extremely seriously -- in fact, the former "Jersey" girl is all set to begin training next Tuesday at the
Independent Wrestling Federation
.
It starts out pretty basic -- holds, how to take a fall, etc. -- but the schedule is pretty grueling ... four days a week. So far, no word on any long-term deal with TNA or WWE.
---
IWF Teams with Nickelodeon TV for "Ultimate Enemy Showdown"
IWF Wrestlers as "Danny Phantom" Ghosts September 2005 on Nick
---
Kevin Knight & IWF Wrestlers appear live on Fox 5 "Good Day New York" with Penny Crone (March 2005)
---
Justin Corino, Shawn Donavan, Matt Bennett & Travis Blake during Telemundo TV-47 visit @ IWF Centre (May 2006)
---